Today and yesterday, I had the very distinct pleasure of attending two four hour long swim and stroke refinement clinics taught by Karlyn Pipes-Neilsen (8 time world record holder in USMS swimming) and her husband, Eric Neilsen, of Aquatic Edge. What an opportunity to be taught by two of the very best swimmers I will ever meet, and to have personal instruction from them. And, man, these clinics were FUN!

The clinics started yesterday and today at 5:30am and ran all morning til 9:30am. Considering Karlyn and Eric arrived from Hawaii to do these clinics, I'm surprised at how much energy they had. They obviously really enjoy what they do.

Tuesday's clinic was a freestyle-only clinic, and we had about 20 people. We split into two groups, advanced and intermediate, and worked on deconstructing and reconstructing our freestyle. If I had to sum up the her advice, it would be, "Keep it simple." I was doing a lot of things wrong, and once I got the lessons, I really felt a lot better about my freestyle. I can't wait to practice it on Friday. It seems after the clinic I was breathing less, exerting less effort, and yet getting better speed out of the stroke.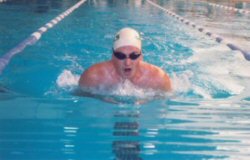 Tuesday was fun, but nothing in comparison to the stroke day on Wednesday. We had less people on Wednesday, only ten or so, so the personal attention was even more. We split the morning into thirds, working each of the three strokes individually. At the end, Karlyn had me swim a 25 of breast, and I was able to do it (with an improved glide) in eight strokes!! That is incredible for me.

On both days, we started the morning with video taping of our old (nasty) strokes, and ended the clinic taping our new, improved strokes. Wow, what a difference! My butterfly before used to be so labored, awkward, and frankly, embarrassing to watch. My new butterfly was indeed a thing of beauty. Even Karlyn said, "Now that's a really pretty butterfly." I was really proud of that, since butterfly has always been my weakest stroke, and is the one stroke that separates the real swimmers from the dog paddlers.

My backstroke and breaststroke were equally improved, as was the freestyle from Tuesday's session. I really want to hang onto these techniques, so I'm going to have to reinforce them in my mind over and over again. They say you should only try to remember one or two things per stroke to work on. Here's my list, which I must practice to become habit:

Freestyle - arms apart, tight wrists, catch and pull
Breaststroke - GLIDE!!! At least a 1 second glide!! Plus, arms not too wide and snap feet

Backstroke - purposeful entry of the hands, nice and straight wrists, firm catch and pull
Butterfly - wide apart hands, no keyhole stroking--nice and shallow
If I can remember these things, all my stroke times should improve, and I do feel like I am swimming easier, getting less tired. (Because I'm more efficiently moving through the water.)
Given the opportunity to do these clinics all over again, I would gladly,
gladly
sign up again!