Here in the United States, it is National Tartan Day. Actually, the day is officially recognized on April 6, but most municipalities (Washington DC included) move their celebrations to today to fit them into the weekend. (It also deconflicts with Good Friday, which is important to some.)

Tartan Day officially recognized as a day to celebrate Scottish heritage. From Wikipedia:


Tartan Day celebrates the existing and historical links between Scotland and Scottish descendants overseas. In the United States there are over 11 million people who claim Scots descent [1], and most take pride in the transatlantic connection. In North America Tartan Day is held on April 6.
I am, of course, celebrating the day by the wearing of the kilt. My boys are wearing their own tartan trousers and shirts. Luke has some trousers in Bonnie Prince Charlie tartan, while Eddie has various tartan shirts (though here we usually just call them plaid shirts). Becky has chosen to celebrate the holiday with a patriotic rolling of her eyes.

My tartan for the day is the Ancient Campbell of Argyll tartan, a non-authorized variant of the official Campbell tartan (also known as the Black Watch), below: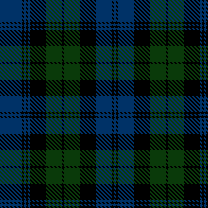 Here's the Bonnie Prince Charlie tartan: